Roasted Carrot and Leek Soup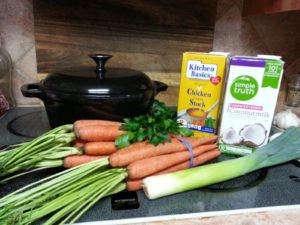 Prep Time: 2 Hours
Serves: 6-8

2 bunches of organic carrots
1 leek
½ cup fresh chopped parsley
¼ cup fresh chopped basil
4 cups of chicken stock
4 cups organic unsweetened coconut milk
Salt to taste
Cut up carrots and leeks to reduce cooking time. Chop parsley and basil.
In a Dutch oven combine approximately 1 cup of chicken stock, carrots, parsley, basil and leeks. Cook at 350°F for 1 hour, or until carrots are soft.
Move Dutch oven to stove and puree contents while slowly adding the remaining chicken stock.
Salt and season to taste.
On medium heat, add coconut milk last, stirring occasionally until soup is once again hot. Do not boil.
Recipe By: Melissa J. Cornish